Think Marketing developed a new website for Tactara
Tactara, a growing company within the email technology space, was looking for a compelling website with the primary purpose of recruiting talent. The website was designed to draw attention to the diversity and culture that have become hallmark features of the Tactara organization. Rather than creating a website that would function as a sales or lead generation tool, Tactara desired a site that would connect with highly talented and forward-thinking individuals within the tech community, enticing them with a highly collaborative and multi-faceted professional environment.

"We weren't interested in developing yet another sterile, corporate website," said Crosby Haffner, Chief Executive Officer, Tactara. "We wanted to showcase our staff in person-to-person interactions that would reflect what it's like to work at our company."

An example of how Think Marketing helped Tactara actualize its vision was foregoing the use of stock photography. Instead, an on-site photo shoot was pulled together to create "day-in-the-life" images of actual Tactara staff members working and interacting at Tactara's corporate offices.

"Having decided early on that we wanted to go with a photographic approach for the design, we recognized that stock photographs, no matter how good, would never convey the spirit of our people and company culture," said Crosby Haffner. "Think Marketing set-up and managed an on-site photo shoot that resulted in photo imagery of our actual offices and people, helping to capture the essence of collaboration and interaction that takes place at Tactara."

Other elements of the Tactara website project that Think Marketing delivered included:
- Content Development - Writing and copy editing
- Site Layout and Navigational Structure - Development and planning
- Website Design - Unique site format featuring a "sliding panel" design and a dynamic navigational experience
- Resource Management and Coordination - From the photo shoot to site design to technical implementation
- Project Management - From initial planning to site completion and launch

The end result was a unique, compelling website that Tactara staff, recruits and customers instantly connect to.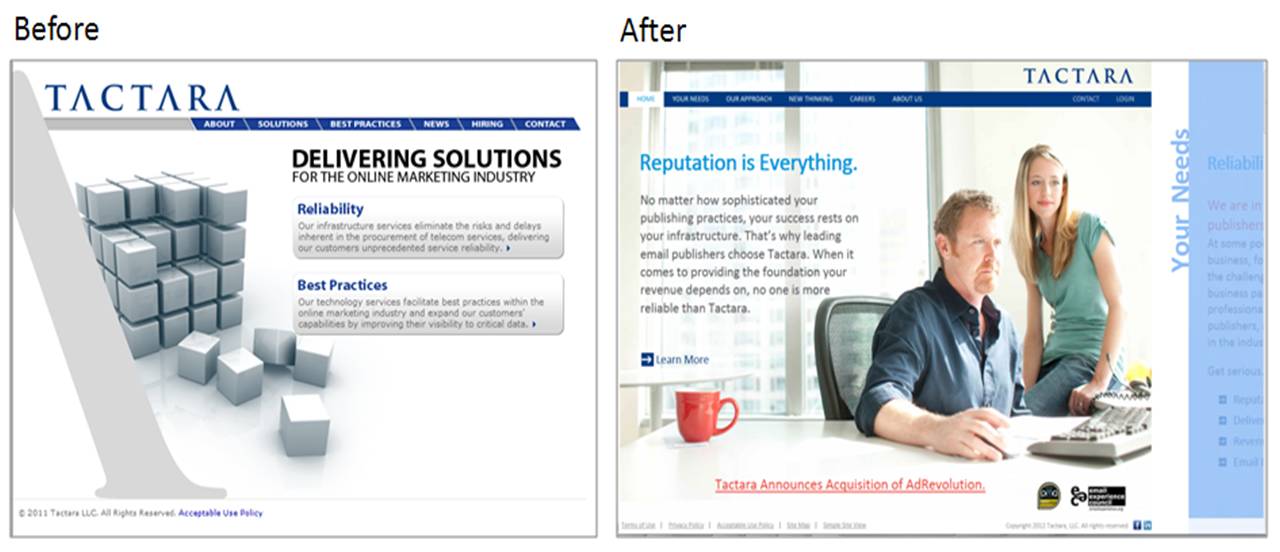 "Often potential new-hires will say that the website was a key differentiator that attracted them to us. The site sets the stage not only for the type of individual we want to recruit, but also the kind of conversation we want to engage in during the interview process. We consider this a huge advantage, particularly when stacked against other high-profile tech companies in the marketplace." - Crosby Haffner, CEO, Tactara

Feel free to check out the site live: www.tactara.com.